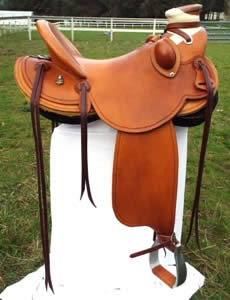 Dottie's Modified 3B
Another modified 3B, with a thicker fork to accomodate a "sturdy, stout horn like the one on the Cowboy".
Rob raises sheep in New Hampshire, which means coyote control is always an issue. Dottie does a lot of serious trail riding, and Rob likes to have his rifle with him so he's ready to dispatch any varmints that threaten the sheep. This saddle has dees from which to hang his scabbard - the square dees on the back jockeys, and some hidden square dees under the front jockeys.
There's also a crupper dee centered on the back jockeys just in case he needs a crupper for some serious up-and-down hill riding.
Custom, handmade wood/rawhide tree from Harry Mari
3/4 single ring "spider" rigging
White bronze rigging rings from Bork Foundry
Stainess steel hardware




Weight fully loaded 31 lbs