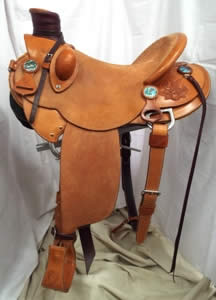 Emma wanted a saddle that would celebrate New Zealand, her home. She wanted minimal tooling that would include adaptations of the Silver Fern and the native Iris, and wondered if there was a way to use colorful Paua shells.
I called on my jewelry skills and figured out a way to make conchos using the colorful shells.
The buckrolls are made from a single piece of sweated skirting leather to match the saddle. They are screwed in under the fork rather than tied across the handhole, for greater stability.
Warren Wright wood/rawhide tree
7/8 double flat plate rigging
All-leather ground seat
Stainless steel hardware
Hermann Oak skirting, Big Horn latigo
Conchos made from Paua shells
Custom leather-covered tooled wood stirrups
Weight fully loaded 30 lbs
The cantle back has Emma's company logo, for Duwell Horse Supplements in New Zealand.