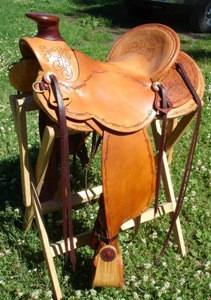 Popper's Modified 3B
I wanted an old-timey vaquero-style saddle that would fit me snugly and make it easy to sit straight up and balanced right over my stirrups and right over the balance point on my horse's back. It worked out perfectly - very comfortable, secure, and a smaller seat than I ever used to think I needed. It's the Nikkel's thigh length measurement in the tree that really gives a rider the correct seat length. Turns out I'm a better rider than I thought I was!
I started with the idea of the 3B, but had to modify it a little to make room for the very special horn. A classical 3B has a fork thickness of 3-1/2" and a narrow horn; this fork is 4-1/2" thick to integrate the horn.
Custom, handmade wood/rawhide tree from Rod Nikkel
Seat length 14-1/4"
4-1/2" stock
3" fully exposed Jarrah wood post horn with 4" cap
4-1/2" Taylor cantle, 40 degrees and 1" dish
95 degree bar angle to fit a low-withered horse
5/8 single ring "spider" rigging
All-leather ground seat
Bronze hardware from Herb Bork
Hermann Oak skirting, Big Horn latigo
Solid brass conchos from Tandy, scuffed with emery cloth
Cantle binding stitched with coad-waxed Irish linen
Stirrups to be replaced with 3" Walnut flatbottoms from Nettles (when they arrive)
Weight fully loaded 30 lbs
The cantle back has an inlaid Mexican Lace Agate.

The Rod Nikkel tree in this saddle