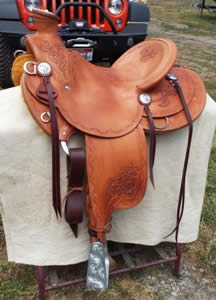 The Rocket is so named for the two small stylized T-38 "rockets" that customer Nancy asked me to include somewhere on the saddle - to commemorate my adventures in the T-38 as a USAF pilot decades ago. You can see them in the cantleback photo - at the center bottom, pointing up into the sun in her beautiful custom concho.
"You just can't get your leg OUT of the right position! The sweat pattern showed excellent contact, without any bridging or dry spots. I felt like I could have loped around ALL DAY. The lope is extremely perfect in the seat. My trainer loves where my leg is and that my spur, too, is under his ribs. My leg is hanging very comfortably - close along the sides and able to get under the barrel of his ribs. The twist, too, actually gives my ankle area more contact and grab. I have not had hip pain since riding in your saddle. I have no problem finding and keeping my balance. I am very grateful."

Custom, handmade wood/rawhide tree from Rod Nikkel
3B fork, modified with a 4-1/4" stock to accomodate the horn cap concho
4-1/2" Taylor cantle, 40 degrees and 1" dish
Small cheyenne roll
7/8 single inskirt rigging
All-leather ground seat
Stainless steel and silver hardware
Hermann Oak skirting, Big Horn latigo
Cantle binding stitched with coad-waxed Irish linen
Weight fully loaded 28 lbs

My photos don't do justice to the elegant custom-engraved sterling silver conchos, from Shawn Didyoung at cowboyengraving.com.