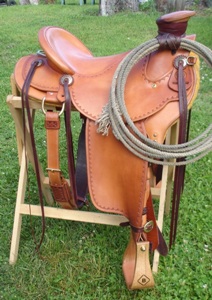 New Wade Saddle
Built for a customer who is a geologist with a strong interest in volcanoes; Wayne Jueschke's stamp #169 made perfect little volcanoes for borders.
Custom, handmade wood/rawhide tree from Rod Nikkel
5" stock
3" guadalajara wood-post horn with 4" cap
4" Taylor cantle, 37.5 degrees and 1" dish
95 degree bar angle to fit a flat-withered horse
7/8 double inskirt rigging
All-leather ground seat
Bronze and brass hardware from Herb Bork and Sheridan Leather
Hermann Oak skirting, BigHorn latigo
Oak stirrups from Nettles customized with customer's brand
Brass conchos from Outwest Saddlery
Loop-style rope strap, crupper dee
Horn and cantle binding stitched with coad-waxed Irish linen
Weight with back cinch 30 lbs
I had the pleasure of taking the first rides, to start the breaking-in, and the saddle is every bit as good as I tried to make it. I have a flat-withered horse the same shape as my customer's, and the saddle (thanks to Rod's treemaking skills) never moved an inch side-to-side, even with a barely snug mane hair cinch. If you've ever had to ride a flat-withered horse on which saddles are always slipping sideways, you know the insecurity that adds to any ride; riding that same horse with a saddle that fits the body type gives such a tremendous sense of security that you can focus on tight circles without always adjusting the saddle upright, or ride through an impromptu spook or leap sideways (or general naughtiness) without a slipping saddle making the problem worse.